As well as being one of the world's most beautiful countries, Scotland offers a wide range of hunting opportunities to suit all tastes and budgets, in the most impressive landscapes. Our driven bird hunts are for grouse, pheasants or partridges depending upon the season. Mixed species bird shooting may be walked-up or partly driven and will provide a wide range of quarry in season, including grouse over dogs.
Deer Stalking, the British term used for hunting deer in upland or woodland settings offers the choice of exciting and challenging Red, Roe, Fallow & Sika stalking throughout the country.
Red Deer Stag Stalking – Scotland (1st July – 20th October)
If anything symbolises Scotland as much as the Grouse it's our native Red Deer. Ranging over the high tops of Scotland's most beautiful mountains for much of the year, they're prized by people who relish the challenge of hunting Scotland's largest and most powerful mammal. Red deer stalking in Scotland is truly one of the most magical experiences that hunting in the UK can offer and we have some stunning estates to introduce you to where you will soak up the full ambiance of a days deer stalking in Scotland.
Red Deer Hind Stalking – Scotland
(21st October – 15th February)
The management of our wild red deer herds is something that we take very seriously to ensure that the deer population is kept at a sustainable level and the weak and elderly animals are shot. A days hind stalking is fantastic value for money with an opportunity to shoot more than one and for the same fixed price daily fee. With a choice of 4 different estates to take our clients, we can guarantee a thoroughly enjoyable experience. Please Contact Us for further details, availability and to book.
 Grouse Shooting – Scotland
(12th August – 10th December)
Who has not dreamed of standing in a grouse butt, waiting for coveys of birds skimming like miniature brown missiles over the horizon? Driven grouse shooting is definitely the most exciting sport that UK shooting and hunting can offer and we have some of the most stunning estates within our portfolio both in Scotland and England that we can offer you.
Or maybe your dream is hunting this totally wild 'King of Game Birds' over pointers or spaniels – either way Scotland is the only place in the world to experience it and HRW are the people to help you. We have many walked up days available for 2015 for between 2-6 guns so please Contact Us with specific date and location requirements.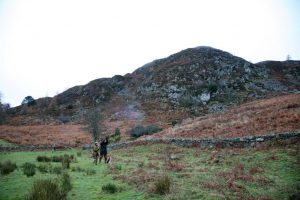 Partridge Shooting – Scotland
(1st September – 31st January)
This most engaging game bird can offer so many challenges – driven off high banks or over deep valleys they can test the best high bird shots, they can burst like an exploding shell over hedges in the traditional manner. Alternatively, they can be brought from the edge of a heather moor to offer a challenge that matches driven grouse. We have a selection of estates that offer driven partridge shooting in both Scotland and England including our very own Cardney Estate here in Perthshire. For both Full Teams and Individual gun availability, please Contact Us and we will make sure that all of your needs are more than fulfilled.
Scottish Shooting Seasons
| | | |
| --- | --- | --- |
| | Date From | Date To |
| Grouse | 12th August | 10th December |
| Ptarmigan | 12th August | 10th December |
| Partridge | 1st September | 31st January |
| Pheasant | 1st October | 1st February |
| Duck | 1st September | 31st January |
| Geese | 1st September | 31st January |
| Snipe | 12th August | 31st January |
| Woodcock | 1st September | 31st January |
Deer
| | | |
| --- | --- | --- |
| | Date From | Date To |
| Red Stags | 1st July | 20th October |
| Red Hinds | 21st October | 15th February |
| Roe Bucks | 1st April | 20th October |
| Roe Does | 21st October | 31st March |
| Fallow Bucks | 1st August | 30th April |
| Fallow Does | 21st October | 15th February |
| Sika Stags | 1st July | 20th October |
| Sika Hinds | 21st October | 15th February |